Dream 221 – Heavenly Condominium Living for the Youths
Received Tuesday, November 1, 2016
My daughter's birthday was on Sunday and I had asked for a Word for her from the Lord to encourage her. This ended up being so encouraging that I later requested that God allow us to post something for all of the youth out there as so many of them have been fed wicked lies about Heaven.  The below is what we were free to share…
Communion
Dear Father,
Thank You for another day! The beautiful fall colors are almost gone and the pond is like glass in the distance.  As I write this today, I hear the sounds of different flocks of geese, ducks and other birds settling in here for a quick rest.  After resting, they will then fly south to warmer 'homes' for the winter.
So Thank You, thank You, Father, as You are so awesome and kind. I love You with my whole heart, soul and strength.  Father, if it be Your Will, could You please give me a Word for my daughter for her birthday?
Jesus: "Erin, come up."
I was up at God's overlook in His Garden. I looked over and saw the little bubbling spring coming from the rock and I ran over to drink from it.
As I was drinking, a little sparrow with silver and gold feathers and a tiny gold crown with opals came to drink. It was singing and appeared to be saying 'hello' to me.  I laughed as it flew up onto my shoulder.
I went over and sat on a bench to look out at God's valley. It was sunrise and the beauty was incredible.  The sky was filled with beautiful pinks and purples.  In the meadow below, I saw little baby animals with their mothers, but with their fathers too.
They were all playing, drinking, grazing and even mingling with each other. I saw bear cubs, rabbits and bunnies, baby squirrels, fuzzy little birds and ducklings, lambs, ponies, puppies, kittens and on and on.  It was like a 'Hallmark Card' collage of cuteness.
This was really like nothing on Earth and it somehow seemed normal to see baby hedgehogs, does and other babies tackling each other and chasing each other around. There were so many varieties to watch that I could not help but laugh with joy.
Me: "Okay, Father, this is incredible.  A baby koala is tackling a baby bear cub and a baby giraffe is giving rides to baby birds.  This is not possible in the natural, but only possible in God's supernatural.  Thank You, Father, for this makes me smile."
Just then, I felt a hand on my shoulder. I turned and I saw Uriel smiling at me.
Uriel: "Are you enjoying the baby animals in God's Garden?"
Me: "Yes, but I have never noticed them before."
Uriel: "They are everywhere, but today these are going to the Garden for the Children.  There are more children here than adults, so the children are raised by angels here.  The baby animals are being blessed today and celebrating their service to bring joy to the children, but the parents are joyful too.  The animals are all in service to God, as are the saints and the angels."
Me: "Oh, is this why I have never seen such a sight in God's valley before?"
Uriel: "Well, you have, but you have only been focused on what God calls your focus to.  Now come, I will show you something.  Bring your new friend."
He pointed to the bird on my shoulder and the bird jumped up and down with excitement. I ran over to Uriel's horse and, before I could even think fast enough to mount it and fly, we were off flying into the direction of the sun in the east.
We flew over the Valley of Blessing, the fields of flowers and toward the landing area in front of the northwest gate of the City. The walls were easily one hundred feet high and the Gate of Pearl and precious gems were so beautiful.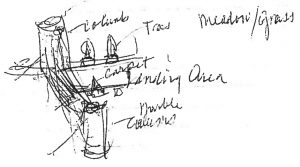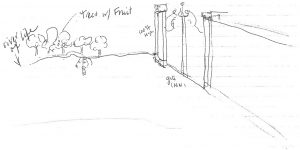 Uriel landed in front of the gate and helped me from his horse. As we approached the massive gate, two angels opened it and we walked onto the golden stone street.  There was lush vegetation, flowering vines, beautiful homes and little shops everywhere, along with fountains, small lakes and parks.  It was all just so indescribably beautiful.
Uriel: "Erin, in the beginning of your time here in Heaven, you were given a dream.  It was a clear dream and unlike any you have ever had.  Do you remember this dream?"
Me: "Yes.  I was in a part of the Golden City of God that was like a 'Maxfield Parish' painting.  However, the buildings were also state of the art modern.  This was quite difficult to understand."
Uriel: "I am going to show you a place, but this will raise questions with you.  However, understand that, when a child reaches a certain age and is either here being raised by angels or arrives here because God has completed their times as each man's days are numbered and each has a purpose under Heaven, they come to this learning area.
"Now, this particular learning area is typically for those from the ages of 13 to 23, but this is really just the average age for those that are here. The area is divided into groups and is like a Heavenly boarding school and college campus combined."
"This learning center is a place where they enjoy all of what many feel that they missed, but it is much more. Here, they grow in maturity and develop their calling in service to God.  This is also where they meet the friends that God has called them too."
Me: "Hmm, I thought that all of us in Heaven are friends?  I also thought that all of us would be around age 25 or so?"
Uriel: Smiling.  "Well, God could grant supernatural maturity for all, but when did He say that there would be no need for growth?  The growth process here is enriching and is not painful like that on Earth.  Instead, the growth process is rewarding here.  While it is not competitive here, there is 'competitive comradery'.
"This is an area where the youth fall in love with God and there is a process of learning. Although they are all grateful to be here, many had been taught on Earth that Heaven would be a place with no fun for them."
Uriel reached for my hand and we went into a type of modern dormitory. The buildings around us were like a modern city and easily the size of New York City.  The buildings were constructed of high-tech stone and crystal mirrored glass of gold.  There were hills and lush gardens, outdoor cafes, restaurants, shops and theatres everywhere.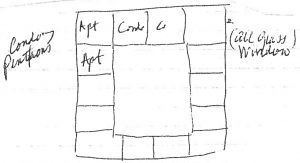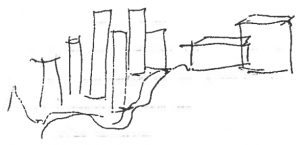 Each building consisted of stories and stories of condominiums and each individual condo was personally designed for the youth living there. The ceiling of each of these condos was around twenty feet high with glass.  Uriel took me into one of these units.
The condo was so high-end that, if it were in a building in New York City, it would easily be worth $30 million or even more. The condo was modern with white furniture and fluffy rugs.  There was a modern kitchen with a beautiful countertop of light blue green and white stone, like an opal.
Me: "Wow, Uriel, I want this place.  This is so incredible."
Uriel: Smiling.  "Yes, and there is still work to be completed on this place."
He walked to the window and it was massive. As he approached, the glass automatically separated and he waved for me to come out onto the deck.  The deck was almost as beautiful as the inside of the condo and had fountains and water features.  There were also chairs and a channeled pond with a glass rail.
In the distance, you could see the Throne of God. As we walked to another part of the deck, you could see a view of the lake, the campus and the other condominiums.  When we looked across at one of the buildings next to ours, we saw some college aged boys waving at us.  They seemed quite happy to see us.  This surprised me at first.
Me: "Who are they?"
Uriel: "This place will be for a girl currently in her teens that you know.  God has prepared a place for her here.  Those people that you see are her friends and they are waiting for her to arrive.  There are many other friends, both boys and girls of course, waiting for her to arrive as well."
Me: "Wow, does she know them?"
Uriel: "This is difficult to understand, but they have been following her from here.  Those God has appointed intercede here.  When she arrives, it will be a place here so perfect for her that she will not miss the former things on Earth."
Me: I was saddened for a moment.  "Uriel, will she remember the people that she knew back here that love her?"
Uriel: "Erin, how could she forget?  They helped shape her for all of this.  She is here because they kept her focus on Heaven.  This is the part of the City where they all form relationships with each other and with God."
Me: "Oh, this would have been my dream when I was younger."
Uriel: "Yes, but not everyone encounters this immediately upon arrival as some go to a training ground and a place of service first.  However, other children do not have to go there first as each of their places is already here."
I suddenly became quite worried as, from an earthly perspective, it seemed nerve-wracking to have such handsome boys being so close to such beautiful girls. For some reason, I was just not thinking about this properly and from a Heavenly perspective.
Me: "Uriel, are they going to be okay?"
Uriel: Smiling.  "Erin, you are assuming that the fleshly desires on Earth will be the same here in Heaven.  If you can conceive this, remember that only the positive Fruits of the Spirit are here in Heaven and are always in full operation.  Erin, not one of these youths would do any evil in the sights of the Lord.  It is not even possible to sin and live here, Erin, but there is much more to all of this."
Me: "Uriel, what happens after the age of 23?"
Uriel: Smiling.  "This is a mystery for now, but, eventually, they will graduate from here and be fully developed.  They will then have a home in the mountains, valleys or near the beaches.  They will worship God, but also be near their circle of friends."
Me: "Why would she need such a massive condo?"
Uriel: "Well, she has gatherings and she is given the desires of her heart.  She will enjoy so many different activities and even event planning.  She will enjoy shopping with friends and decorating her place."
Me: Laughing.  "Oh, that sounds like so much fun."
Uriel: "The people who loved her on Earth will visit her often here.  She and her friends also visit these people's places.  All of the youths here are also developing their tastes individually as creativity still exists."  He smiled.
Me: "Oh, my daughter will be so excited to hear about all of this!  Thank you for this, Uriel, as she has been sad and discouraged."
Uriel: "She is His and she is hated by the world.  This is enough for today.  There are angels over her to guard her in all of her ways.  She is greatly loved by God."
Dream over…
Copyright© 2012-2018 SparrowCloud9; Erin Aleshire (All rights reserved, copies only allowed as per written permission)