Dream 262 – Jesus and the Grape Stains from the Harvest
Finished on Tuesday, October 10, 2017
Received on Monday, October 9, 2017
Communion
Dear Father,
Thank You for another day! Father, this has been a special time for me and unlike any other.  I have had a difficult last few weeks.  My pain has been unbearable at times and I now even have trouble finding comfort when I lay my head down.  There have been many tears and not just from the pain I have.
Unable to sleep one night, I went to my knees and prayed for You to allow me to see my children healed before You take me Home. I felt that, at least with this, I would be able to 'die' satisfied, if this were to be Your Will for me.  I then went back to bed.
Instead, and right before my wide-open eyes, You then provided me with something seemingly unrelated. My entire time as a 4 and 5-year old, 1967 to 1968, on 'Bell Street' flashed before me.  While this was a vision, it played almost like a movie.
As this painful time flashed before my eyes, You showed me things that I could now barely even remember at all. You then put all of these broken and forgotten pieces together and played it in front of me just like an epic movie.  There were heroes and villains, joy and sorrow, all of the things that you would find in a 'blockbuster'.
All of it was covered in this movie as it flashed before my very eyes. As I 'watched', I started to cry until the tears soaked my pillow.  This vision then seemed to pause.  I was now sitting on a curb outside of my elementary school.  It was my first day in Grade 1 at Hillside Elementary in Berkley, California.
When I checked the clock, only five minutes had passed, but I thought it had been a couple of hours. God had just shown me around 2.5 years of the last part of my first bridge in just minutes, but I did not know why.  Why, Lord?
These broken bits and pieces of my early memories in my journey of the first bridge of my life had been a big mystery to me. I now knew that some of the things my closest family members had told me about this time did not match my memories or the dates on my photos for a reason.  This 'movie' helped me to understand why.
Up until now, I was so confused that my memories had never seemed to match those of others who grew up with me in this house.  I always wondered how people from the same household could have had such different experiences when witnessing the supposed 'same events'.  I always wondered how these reports could vary so much.
Well, Father, I went on this journey with You and now I know that it was You assisting me in this incredible discovery. You then led me to two 3" x 11" x 7" flat boxes I had stored that also documented so much of this first bridge.  You then helped me sort through these memories from my earliest years.
The first box came from one source and the other came from a different source, my parent's. I opened the contents of each box and, with Your help, was able to sort the photos in chronological order.  After sorting the contents, I first prayed to You before starting over again to look at them from a fresh perspective…
Me: "Father, why did You have me go back there?  Why show me all of this?  Does it matter anymore?  My grandparents, and now my mom, have all since passed.  These records are quite poor in quality and my grandmother's diaries has since mysteriously disappeared.  Only You, Father, can piece all of this together for me.  Since my mom was adopted, I do not have much to go on.  What am I doing back here?"
I somehow knew that I was to continue. I placed all of the photos before me.  Thanks to my grandmother diligently writing dates and places on almost all of the photos, this started to come together surprisingly fast.  I then noticed that a pattern of sorts was starting to emerge that was based on certain street names I had lived at, including…
'Lord' Street
'Plumb' Lane
'Bell' Street
'Masonic' Avenue
'Cumulus' Lane
'Craftsman' Place
The list of places I had lived went on and on. I soon had no doubt that the very names of these streets I had lived on throughout my entire life all had significance.  I then remembered so many things that happened to me at each of these addresses, things that most would even find quite hard to believe.
Well, Father, I then also discovered that You had been protecting me from the very beginning, from my very start. I soon also discovered that I had an unusually keen interest in dwellings and structures from as early as three years old.  I even have photos of me 'building a shelter' dating back to 1966 and 1967 to prove it.
By the end of my first bridge, at age 7, I had already been through many moves and transitions, but also so much pain. I noticed that my face seemed full of joy and hope in the first 4.5 years of my life, but that everything from age 5 and up had then completely changed for me.
Yes, things had changed from thereon in and for the worst. Something was now terribly wrong and I could see it in every photo of me now.  I had such a different look on my face.  There was no longer any joy or hope there.  You then showed me so much that had happened to me, but that I was not to write any of it down.
Even in these dark times, You, Father, were there with me. You put this together.  You knitted this together to form the very fibers of my being and the very person that I am today.  Even though I did not know it back then, I was truly under the shelter of Your mighty wings.  Psalm 91 is where I had been, and have been, all along, so thank You!
When I look back over my life, I really have not had any great achievements. I do not have a lengthy list of academic milestones.  I have not climbed any great mountains.  I have not sailed the seas.  However, there was still something consistent throughout this entire early part of my life.
As it turns out, there was a philosophy that I had consistently followed from a very, very early age. It was a philosophy based on something someone had told me, but I do not remember who.  When I was a young child, someone had told me the following…
"Listen to me, Erin. Always remember that silence is golden.  It is better for you to say nothing unless you have something to say that someone wants to hear.  Instead of speaking, be aware of everything around you.  Study your surroundings carefully and you will find out that there is always a door open behind that which you see."
I then saw evidence of me doing exactly this in the photos before me. I even have a photo of me staring intently at something a family member was doing.  The photos showed me studying my surroundings and my situation intently.  I was so intrigued by whatever I had been studying that I was usually the one not looking at the camera.
I then noticed that there were just so many photos that were similar to this. I was studying everything and everyone all of the time.  However, while this person had also told me that there would be open doors for me to discover, I soon found out that this part was not true, at least not for me.  I instead saw nothing but prison bars.
In these memories, I could see no way out for me. There was also no way out from my memories as I could not undo all of the disturbing images that I had seen.  I simply could not 'un-see' all that I had seen and had been exposed to.
Oh Father, only You can heal the trauma from all that we have seen and experienced. Only You can shelter us from the pain of past memories.  You are our refuge and our strength (Psalm 46), so please help us!
Given my hopelessness back then, why, Father, did You just reveal these last couple of years of my first bridge when it was so painful? I am now 54 years old and the 50 years or so since I was 3 to 4 years old has flown by incredibly fast.  Why reveal this when I had virtually no recollection of the painful time that came soon after this early age?
While I still had impressions of feelings and even smells from this time, I really did not have any solid memories. Really, I could have even listed my earliest memories, all of them, quite easily.  In fact, I will try to do this right now…
A glass bowl on a coffee table in my grandma's home
Three large glass balls, one of which I am pretty sure that I later threw and broke
A screened porch
A white crib in a room painted yellow
A fuzzy yellow chick from the farm
My mom's matching red nail polish and lipstick
The comforting smell of my grandma
The satin strip on a small baby blanket
A daisy
My mom and dad laughing, both with happy smiles on their faces
A big bow in my hair
The sunshine
Green grass
A ladybug
My great grandma's porch swing
That 'new baby smell' on my baby brother's head
After writing the above down, You then reminded me of a dream I had shortly after my mom had passed where she had told me the following (excerpt from Dream 202)…
"I opened the box and, inside this, were thousands of puzzle pieces. There was a note from the sender, "Please complete by September 23, 2017." I then received a phone call. The voice on the other line was my Mother's, "Erin, this is 'Mom's first name'; your task must be completed." Then there was just a dial tone."
Well, my husband and I have continued on our quest of discovery and have gone as far as You have taken us. We now believe that we have done all that we can on our own to try and uncover what You have given us to assemble, the 'bigger picture'.
I then suddenly remembered an envelope given to me at my mom's memorial that I was 'not to open until the right time'. Well, I had put this away and forgotten about it until now, so now must have been the 'right time'.  When I looked inside the envelope, I started to cry at the pictures that were now before me.
In a way, these pictures contained a story, a story of when my mom was still peaceful on Earth, which I now know that she is once again in Heaven as we speak. It was a series of black and white photos of my mom as a teenager in the midst of blossoming trees.  However, I could not tell if these trees were dogwood or cherry.
It suddenly hit me. I now recognized these happy pictures as being the very same person that I had met years ago in one of my dreams in the Golden City of God.  This was confusing as she would have still been alive at the time and here on Earth.
I now knew that I had seen her up there in Heaven before she died, but she must have been prevented from telling me who she was. We had run together to a beautiful glass-domed building that was a type of library that stored records and history.  My mom loved libraries and was a scholar, so this would make sense.
I just know that this had been my mom, yet she was still on Earth at the time. I know this may seem confusing, but it is to me as well.  However, we must always remember that time restrains us, not God.  Nothing restrains Him!
I now also believe that the beautiful engravings I have seen in Heaven, such as the ones on my path near the forestry board, were also by her. She was a master engraver and very skilled, so this too makes sense.  I just realized that I had somehow seen the Heavenly version of my 'still earthly' mom while she was still here on Earth!
I now see that the version I saw matched these pictures, but that she was now even prettier and even happier in Heaven! Oh Father, my God and Creator, You just illuminated these photos to me, so thank You!  Thank You!
Thank You for sheltering me! Thank You for keeping us safe from harm.  Thank You for bringing my mom up to You!  Thank You for hearing my prayers and my petitions for her.  Thank You for seeing the desires of my heart and finding them to be good.
When I was younger, my heart was on worldly pursuits, but I am now and forever changed by You! I love You, Father, and Your ways, ways that are so much higher than ours in all ways.  And yes…even when Your timing doesn't match ours…smiles!
So, what comes next, Father? I pray that I am strengthened soon so I can remain here to see all the great things that You have planned for those who love You!  Oh Father, we are so excited and pray that Your 'soon, very soon' becomes just that!
Received on Tuesday, October 10, 2017
Since both the late harvest wine and the ice wine from the 2012 harvest were no longer available as my communion wine, I decided to try an ice wine from the 2015 harvest. This particular ice wine was made from a grape called Vidal and is known for their very thick skin that can survive harsh cold conditions better than most other grapes.
As is my usual routine, I poured my new ice wine into a small cup and took it to my devotional chair, along with my communion bread. While I was sad that my previous wines were unavailable, this disappointment disappeared at first sip.  All I can say is this was, by far, the sweetest and best communion wine I have ever had…well, 'on Earth'.
I recently watched the news as it showed the beautiful Napa Valley, along with the Sonoma, California area, engulfed in flames. These massive fires are destroying the grape vines there.  It seems as if this year's vintage will be lost as a result.
To my amazement, a representative from one of the wineries that was being interviewed then said something so prophetic without realizing it that I wanted to take note of what he said. I rewound the interview and decided to jot the quote down…
"Well, at least we were fortunate enough to have had our harvesters complete their work just before these burning fires struck."
Wow! Oh Father, this part of California that is now burning was one of my favorite places to visit when I was a child.  My parents would take us for drives there quite often and it was always so beautiful.  While I am fully aware from Your warnings that California is to come under great wrath, as is the rest of America, this was hard to see.
Soon after, I found a disturbing news photo of a beautiful vineyard with a massive glowing fire as its backdrop. This picture had such an ominous feeling to it.  I just know that this was a sign of even more tragedies soon to come to 'this once great nation'.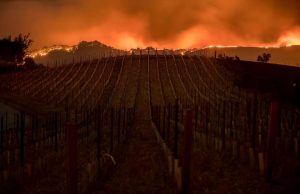 Now, I say 'this once great nation' as no nation can remain great once they have turned their back on You. The USA has been given so many chances to turn to You and repent, but it is now more divided than ever instead.  It is difficult to watch You punish the land in order to, hopefully and prayerfully, then soften hearts towards You.
Oh Father, if only they would come to You with their full hearts now. I just pray that You will strengthen all of us soon.  If not, who will be able to endure all that is to soon come to this increasingly 'godless land' and a world hostile towards You?
As for our family, I want to thank You yet again for Your divine provision and continued safe shelter. When I see these homes and entire neighborhoods burned to ashes, I realize, yet again, how blessed we are to have You, our Mighty God and Creator, looking after us.  You love each of us intimately, so thank You.  Thank You!
Jesus: "Erin, come up."
I was on a forested path that I had not visited for a very long time. The trees were deciduous and it looked similar to a colorful fall day on Earth.  However, here in Heaven, there are many, many more colors and the leaves never fall.
There were so many trees there, each seeming to have their very own uniquely colored leaves. To name just a few, there were reds, oranges, golds, yellows, dark greens, light greens, light violets and pinks.  However, there were also leaves in colors with no earthly equivalent.  These leaves had a shimmer that simply took my breath away.
While it is difficult to describe something that does not exist here, I will do my best. Do you remember the box of 64 crayons that even had a built-in sharpener?  If so, perhaps you also remember the different metallic colors, including bronze, gold, silver and copper?  Oh, how these 'odd colors' had captured us with such fascination as children.
Anyway, as I looked around at this amazingly beautiful Heavenly autumn landscape, I could actually see metallic leaves that were sort of like the color of those metallic crayons, but enhanced. Simply multiply the range of metallic colors a hundred fold and then make them a hundred times more vibrant.
I took a deep breath and only then noticed that the smell all around me was simply amazing. I could even smell the burning wood from a distant campfire, even though I could not see any smoke from it at all in the beautiful cerulean sky.
The trees had pure white trunks. These stood out vividly against the beautifully colored leaves.  There were also some paintbrush Indian ferns and purple flowers at the base of each tree, but perfected.  The combination of colors and textures was so incredible that it took my breath away again.  Truly, nothing even comes close to this on Earth.
As I continued to walk through this amazing vista, I started to round a corner. I could then see rows upon rows of grapevines in the distance.  There were grapes of every color, all in massive ripe bundles, hanging on the colorful grapevines.  Though the harvest was great, I could see only a small smattering of workers there.
These workers were picking each grape by hand. They then would carefully place each grape into a beautiful woven basket.  These beautiful baskets were then placed onto these amazing automated carts.  These carts were clearly 'state of the art' and moved in rhythm with the harvester.  There were quite a few carts, all moving in synchronicity.
I suddenly heard a very loud horn, but it was not startling. Instead, the horn's beautiful and deep sound was, for a lack of a better word, comforting.  Once the horn sounded, all of the workers went over to what seemed like a head foreman to drink some water.
As I got closer, it seemed as if I could somehow recognize the Foreman. My heart started to pound with excitement, but I still was not sure Who He was.  After letting my eyes focus a bit more…yes, yes, I finally knew exactly Who He was!  It was Jesus!
He obviously knew the exact second that I had finally recognized Him as only then did He turn towards me to smile and wave. He motioned towards the workers to continue with the harvest and then started to walk towards me.  I sprinted towards Him as fast as I could down the path between the vineyard rows.
He was wearing a tunic with the sleeves rolled up, along with pants and sandals, all in white. He smiled and laughed at my obvious excitement in seeing Him as I raced down the path.  He was carrying a water jug on His left shoulder and, even though I knew it was always full, there was no evidence at all to indicate that it was heavy to Him.
As we drew closer to each other, I slowed down slightly due to a surprising sight. While Jesus has never ever had stains on His clothes before, I could now see grape stains from the harvesting on His tunic.  However, and just as I leapt into His arms to hug Him, the stains then completely disappeared.  He pulled me back and smiled.
Me: "Where did the stains go?"
Jesus: Laughing.  "Oh no, there are no stains left, are there?  Let's see.  Any stains over here?  No.  How about here?  No."
I have to stop here and explain why I was now laughing so hard with Him. He was looking down and all around in an exaggerated way and was clearly doing this to make me laugh.  Oh, if only everyone could see how awesomely loveable He is!
Me: "That fabric is amazing, Lord, but why did You show me the stains on Your tunic only to then remove them?"
Jesus: "Well, Erin, when harvesting grapes, surely some grape juice will get on your clothes.  Hmm, this seems odd.  I still do not see any stains."
He then continued to pretend to search for stains even though I knew that He knew that He no longer had any stains on His garments. He smiled at me as He continued to 'look'.  I was now laughing so hard that I had to wait before I could speak again.
Me: "Oh Lord, You are just perfect, just and perfect.  There are no stains on Your garment and it is pure white.  I pray that I am able to wear this fine white linen when I am finally here in Heaven.  How awesome it will be to have clothes that never get dirty!"
Jesus: "Hmm, since it is written that you will wear clothes like this, perhaps you doubt your place here with Me?"
Me: Smiling.  "Well, You already know this about me, Lord.  On Earth, I am no one, certainly no one special.  When I see all the trouble that is there, and so much more to come, I cannot help but worry."
Jesus: "Well, Erin, never forget that you are special to Me!  Now, the workers are few.  Look around.  Just a handful of workers will be bringing in all of this bountiful harvest.  While it is hard work, it is also joyful, never tedious and never burdensome."
Me: "Well, Lord, I saw You working alongside the workers."
Jesus: "Yes, Erin, but this is as I have told you before.  I am with you, beside you, in front of you, over you and behind you.  I am also in you, so do not be afraid."
Me: "Lord…"  To my surprise, I started to weep.  Jesus hugged me.  "Oh Lord, the puzzle pieces are coming together.  While I still feel that my purpose is not entirely clear, I am willing.  I want to harvest these grapes, but I can do nothing if You do not strengthen me.  Please, Father, can I soon have a drink of Your healing, refreshing water?"
Jesus: "Yes, Erin, even though you do not fully understand what you have just asked for."  He looked into my eyes and smiled.  "Yes, Erin, it is time for you to drink from these healing waters."
He scooped up some water from His water jug and then used His hands as a cup to serve me. I drank from His hands.
Jesus: "Now, Erin, come with Me."
He reached His hand out towards me and took my hand into His. We walked together on the path and entered into a small clearing.  There was a beautiful pool there and it was filled with crystal clear water like you would see from a glacier-fed lake on Earth.
That being said, the water here is always the perfect temperature. What is so neat about Heaven is that you can swim in a pool at a perfect temperature to be comfortable, yet drink water from that same pool that is then somehow perfectly cold at the same time.  Really, it is just incomprehensibly perfect here…always!
Jesus: "Now, step into this pool with Me.  Erin, I am with you."
I looked down and became sad to see that I had suddenly turned back into my current disabled state on Earth. He could tell that I was now a bit worried.  He smiled at me reassuringly and gently guided me into the pool.
As soon as I entered the water, I felt an unfamiliar sensation, a warm tingle flowing throughout my veins.  I then felt my skin healing.  I then felt my muscles strengthening.  I then felt my bone structure somehow being perfected.  I looked up at Him with excitement, but was still unsure what was happening.
Jesus: Smiling.  "Do not worry, Erin, I am here.  Now, fully immerse yourself.  Go ahead, Erin, I am here with you."
I smiled at Him as I immersed my entire body, including my head, under the water. I felt the healing water swirl around me in an indescribably delightful way.  He then brought me back to the surface and I felt better than I had ever felt, much better than even when I was in my very best shape on Earth.
I was about to hug Him when He was suddenly immersed in a massive beam of sun from an Open Heaven that was above Him. I then felt the soothing warmth of the sun come to me, but it was somehow coming from Him instead of directly from the sun.
Jesus: "Now, Erin, never doubt that you reside here with Me again.  You are standing in living water.  I am with you and I have been with you your entire life.  I have sheltered you and kept you.  I have never forgotten you.  During this time in which I have set you apart, you have drawn closer to Me.  I have also given you time to be a wife and a mother.  In return, you have shown Me that you are grateful.
"Erin, I have answered your prayers and petitions. Just as I have protected you from the enemy's schemes, I will continue to send angels to guard you in all your ways.  No weapon formed against you shall prosper as the Spirit of God surrounds you and My Spirit is in you.
"Erin, the 'times' of your waiting has now come to a close. Those surrounding you and your household will now know that you are Mine.  Since you are an arrow in My quiver and My quiver is now full, I am therefore about to use you, not just as an arrow, but also as a flaming arrow.
"I have given you a heart of compassion for the lost, the broken and those with no hope. To those whom I call you to, you will pour out living water from the vessel I have created with you.  However, for those that I have not called, you will be like a burning flame that will ignite their tongues to confess their evil both night and day.
"People who witness this will then say, 'Surely the Lord has sent these from another place to bind up the brokenhearted, proclaim liberty to the captives and freedom to the prisoners.' You will proclaim that this is the favorable year of the Lord, but also the day of vengeance from God.'  (Isaiah 61)
"Now, rejoice, Erin, rejoice! You have been separated from the world and love not what is contained in it except for those who you love and care for and those whom I also love and care for.  This final harvest will hold the sweetest wine, understand?"
Me: "I think so, but I am not entirely sure."
Jesus: "This wine will come from the thick skinned grapes."  I somehow then knew that He was talking about the world as it is today.  "Now, are you ready for what I am about to do?"
Me: "I think so…um, wait…wait, Lord.  I have something to say.  Lord, I am scared.  It will be very difficult here.  I have seen horrible things in the news lately, especially those things involving very little children.  My stomach, Lord…How will my stomach be able to take this?"
Jesus: "Erin, while this will still be difficult for you to understand, the thoughts of evil men will now become their actions.  Many 'innocent' will be hurt by the actions of but a few.  While this is a measure for the wicked, these children are never alone.  When I call upon My Army, they will cut down the wicked as they will then openly confess their evil deeds.
"Erin, the wicked have no fear of God right now. Instead, they satisfy themselves at the expense of the weak, the young, the helpless, the widow and the elderly.  Even little animals are not removed from the torture of the wicked.  The wicked, and their wickedness, will continue to increase."
Me: "Oh Lord, then please strengthen all of us soon.  If I were to see someone hurting an infant or a toddler, I do not even know what I would do or what I am capable of."
Jesus: "I know this, Erin, but I promise you that you will not walk away when witnessing such things.  Instead, I will be there with you.  I will direct you in the ways that you should go.  I will now do something in your days that you would not believe even if you were told and this will be a part of this.  Now, Erin, the heart transplant I have given you is almost complete.  Your 'inner circumcision' is almost complete."
Me: "How can this be, Lord?  I am a woman."
Jesus: Smiling and laughing.  "Yes, Erin, but now you must understand what circumcision is.  It is the process of peeling back the flesh to expose the heart, your soul, and, even more importantly, your love for Me.  Now, and as it is written, what do I require of you?"
Me: "To fear God and to walk in Your ways, but to also truly love You. Oh Father, how I long to serve You with my whole heart and soul!  Even though I am not perfect, I know that I am also to keep Your commandments.  You have put this all together for our good in order to preserve our ways and to keep our paths straight."
Jesus: "Well, Erin, while you are mostly correct here, always remember that I do not require your perfection and I never have.  This was a punishing rod and a measure designed by the enemy to keep you from learning about Me in My Word.  The enemy wishes to keep you from embracing My covenant for those who love Me.  Because of Me and because of your love for Me, you are hated and will continue to be hated.
"Now, I am the circumciser of the heart. This you do not do on your own, but only as I call you.  I am the Physician Who removes the flesh and exposes the man, understand?  Accordingly, I prepared your vessel, I created your walk and I shaped your life.
"I took you through the fire of affliction, and not just once, but several times. I then prepared you by emptying you so that you could then allow Me to fill you.  However, I am here with you today to let you know that your heart is complete."
Me: "Lord, does this mean that I am now ready to receive a 'New Heart'?  Am I now ready to receive a 'New Spirit' or am I to die now?"
Jesus: "Oh Erin, how I love you!"  He smiled at me with such compassion.  "Do you really think that I would keep you protected your entire life, sending tests and trials, all of which you have come through, only to now take you away instead of being used by Me?  No, Erin, I will not as I have a plan here.
"Now, I have had you studying your history and that of your family. Why?  It is because I placed it on your heart to do so.  However, soon…"  He smiled.  "…yes, Erin, very soon, all will be explained and all will be understood.  You will then be given knowledge of things that you could not possibly have without Me."
Me: "Thank You, Father.  It even seems as if I am already experiencing a glimmer of this now.  Lord, in my prayer room here, and just today, hundreds of ladybugs have somehow been able to enter.  They seem to be gathering here.  While I have had a few come into our house over the years, it seems to be a swarm this year, but a welcome one.
"It also seems as if we have had several flocks of birds come to live on our property recently. I have seen many blue jays here lately and even more doves.  Between the many animals that now visit us, the birds that have come here recently and now these ladybugs, well, I am in shock.  There are also honeybees just outside my window.
"As You know, Lord, ladybugs have always been my very favorite 'bug', especially when I was a child. My mom would even buy me things with ladybugs embroidered on them.  I now have hundreds of them here with me in my prayer room.  This makes me so happy!  All of this feels supernatural.  Oh, I just know it is, so thank You!"
Jesus: Smiling and laughing.  "Oh Erin, is this not just because the cold is coming?  Do they not seek places where there is light and warmth?  Are they not just merely seeking a place to sleep for the winter?"
I laughed as I knew that He was lovingly teasing me. I also knew that He knew that I knew that this really was supernatural.  Okay, I must admit I am having some fun here!
Jesus: "Hmm, okay then.  Perhaps they really are going there for a different reason.  Let Me think…Hmm, yes, there is a reason they are going there.  They know that you are near My Altar and that they will then be near My Altar by being near you."
"Now, do not worry, Erin, as these ladybugs have not come to harm you." I laughed as I again knew that He knew that this was the least of my worries and that I really liked them here with me.  "Erin, now is the time for you to dance and rejoice.  Hmm, it is also the time for you to laugh and take joy in this wonder."  He smiled at me and I laughed.
Me: "Oh Lord, as always, You are right!  All of this is amazing, so thank You!"
Jesus: "Do not worry, Erin, as I am soon to strengthen you.  Look around you.  You are standing in healing waters.  Immerse yourself and drink deeply.  I have blessed you with living water."
When He hugged me, I hugged Him back tightly as I did not want to let Him go this time…well, really every time. I knew that, as He has promised this, I would never have to let Him go again!
Dream over…
Copyright© 2012-2018 SparrowCloud9; Erin Aleshire (All rights reserved, copies only allowed as per written permission)