The Prophecies
Dream Excerpt from The Prophecies
The Prophecies – Dream Excerpt
Dreams from the Lord from December, 2014 to September, 2015
Prelude to "God, Uriel & the Number 50"
In these thirty three dreams that form this sixth book, Jesus started to ramp up the prophecy of things that will be seen both as we approach the Rapture and after the Rapture. These are frightening in a way, but yet awesome in that God reminds us that He foretold of all of this to remind us that He is in control.  He constantly reminds us not to fear, but always look to Him, especially when we worry.
As I will mention in each of the excerpts, each of the seven books, with the eighth book in the works, have bits and pieces that work with each other. For example, though the residing theme in The Prophecies is, well, prophecy, the themes of the other dreams contained in The Invitation, The Blacksmith, The Mansions, The House of God, The Exodus and The Final Hour, as well as the Tribulation, all reside in each of these books including this one as the theme of The Prophecies sometimes appears in each of these as well.
While there is so much in this book about the Lord's plans and how mysterious they remain, the following is a prophecy that includes the destruction of Palmyra several months prior to ISIS destroying it by blowing it up for no particular reason. While this is a fulfilled prophecy, it is noteworthy that so many detailed prophecies, all of which never contradict the Bible, are just sitting in this book waiting for you to discover them…
*******************************************************
Dream 163 – God, Uriel & the Number 50
Received Wednesday, May 20, 2015
Communion
Dear Father,
Thank You, thank You and praise You. Thank You for more time here.  Thank You for my children and family.  Thank You for our home and safe place.  Thank You for our beating hearts.  Please do not take me Home early and away from my family, Lord as it is too soon and we are finally enjoying peace.
I love You, Father, and I look to You fully now to provide for all of our needs. Please continue to show us Your love and favor.
Jesus: "Erin, come up."
I found myself walking on the path on God's Mountain towards the bench overlooking the peaceful valley. I stopped to take a drink of water from the split rock.  I was thirsty so I drank deep of the bubbling spring.
As the water refreshed me, I turned and sat on the bench overlook. It was spring and everything was in full bloom.  I put my head down into my hands to pray.
Me: "Thank You, Father, for all of this.  This is such a joyful miracle."
I heard a choir of birds and saw what could be starlings create some incredible maneuvers in the sky. There were bands of swirling silver ribbons created by their movements and they were in complete union with not one bird 'off'.  I laughed as I came up with "choreoGODraphy" as perhaps I had created a new word.
All of this, and even our very lives, are God's choreography as there is no other explanation but God. I watched the massive clouds of starlings fly toward the valley and the meadows or pastures.
I saw Jesus in the distance as He was leading a flock of sheep to the River of Life. He had His rod and staff that was really a herder's hook.  It was a beautiful sight and reminded me about our lives in Psalm 23.
Me: "Father, I did not lead the best life and I fell short quite often.  You had Jesus lead me often with thy rod and staff as I was unable to find my way without Him.  I am so sorry for all of my mistakes.  I am so sorry if satan was ever able to use me against others.
"I pray that Jesus will always be my Shepherd as only He can lead me to the water of the River of Life. He is my comforter and the wellspring in my heart.  Then why do I fear?  Why am I often afraid?"
Just then I saw Jesus turn and wave to me and I waved back as I cried. I saw Him turn and the sheep followed Him.  In the distance was a gold shimmering field of wheat.  He guided the herd to rest under a massive tree.  At the base of this beautiful tree, I saw the sheep then lay down.
He then began to walk toward the wheat field as He looked up at me and waved again and I waved back. With the sun behind Him, the light created a white and gold corona around Him.  It was as if I was seeing a live eclipse, but with Jesus.
I then saw His shepherd's hook turn into a sickle as He walked toward the wheat field. I saw a massive group of angels and field workers assist Him.  Just then I felt a hand on my shoulder and it was the angel with the bow and arrow.
Me: "Angel, are you Uriel?"
Uriel: "Yes, Erin.  God is requesting your presence.  Please come with me."
Me: "Your wings are beautiful."
Uriel: "My appearance is of no significance, Erin, but thank you."
He had beautiful wings of crimson and gold. His armor was gold with a shimmer of crimson on top of this and I have never seen anything like it.  He never said much to me and he even appeared frightening at times.  I have seen Uriel before, but I barely remember the time before these last several times.
Uriel seemed to be the angel who took me to God's door every time I visited Him. I was excited to see God today as tears were streaming down my cheeks.  I looked out over the forested area around us and it was remarkable.
These trees were larger than any tree on Earth. The floor surrounding the trees was filled with fragrant flowers of purple and blue.  We arrived at the forestry board and there was a gold coin with the number '50' etched on it.  I flipped the coin over and '50' was etched on the backside too.
I laughed and held it in my right hand as I noticed that there was a note with a beautiful pocket watch of gold next to it. The watch had Heavenly scroll work engraved on it and the face was pearl.  Each of the twelve marks was a jewel of the Ephod, which is the same as the foundations of the golden City of God.
There were dials inside the main dial and it looked like a small version of God's Clock and Calendar. The little pocket watch was beautiful and exquisitely handcrafted by the best watch makers and artist of the world.  In fact, it was divine in origin.  I opened the Note:
Erin, remember it is I Who governs your steps, your heart is Mine.
Me: Crying.  "Thank You, Father."
I felt Uriel's hand on my shoulder directing me to open the door. I felt for the key and reached for it.  I felt warmth from my hand as I looked at all the items.  I then saw the gold coin go into my hand.  I then saw the pocket watch.
Me: "Oh, but it is so pretty, can I just keep it…"  Just then the pocket watch disappeared.  "Why did this disappear?  It was so pretty!"  I was disappointed.
Uriel: "Erin, what good is the watch if you have no understanding of that which you gaze upon.  Is it better to hold the watch or have greater wisdom?"
Me: "Wisdom, of course."
Uriel: "Time to go into God's presence, Erin."
I reached for my key and opened the door and the light streaming in and was so bright. I felt Uriel lead me in as I dropped to my knees.  I felt Uriel put salve into my eyes and heard a choir of at least a thousand angels singing.
One half of the angels sang, "Glory to God on High", while the other half sang, "Holy, Holy, Holy." It was sung in layers and was so beautiful that I raised my hands up and kept my head bowed as I felt my entire body respond to God's presence.
I felt warmth and healing as I took a deep breath and felt the pure air of Heaven fill my lungs. I looked at my hands and they were a beautiful golden glow.  Suddenly I had no recollection of labored breath, but only of this divine oxygen filling my body.
I worshiped God along with the choir and thanked Him for my life and my family. I realized that my children were already now teenagers and that our life is but a breath.  I continued for some time praising Him as the choir completed their song.  However, I still heard quiet and beautiful humming from all the angels as God spoke to me.
God: "Erin, I am glad you came.  Where have you been?"
Me: I knew He already knew.  "Father, I have been busy giving things away.  I am finally removing the articles which burden me.  Then I became sick and I thought You were finished with me."
God: "No, Erin, I am not finished with you.  What have you learned?"
Me: "Something new.  I learned that all of the clothes, artifacts, trophies and memories merely represented a façade of a picture I wanted to paint of myself.  When I wore these pretty clothes, they made me look more important than I felt.
"Now I have no need of any of this. Not only that, but all of the items I had really enjoyed were broken or damaged in our move, so even they no longer make me smile."
God: "So many worries, Erin, create walls to Me.  Can I have all of these?"
Me: "Yes, and You can have all my other stuff too."
God: "I have no need of stuff."  I heard a thunderous roll as the walls shook at God's laughter.
Me: "Yes, Father, as I know that there is nothing anyone can give You that You do not already own."
God: "No, Erin, this is not truth as I will not force hearts to Me.  While I did not create things to take care of you nor did I create you to take care of things, the heart of the matter is in you as I created you for My purposes.  It is the 'things' which get in the way.  Besides 'things', the enemy works to keep you from Me."
Me: "I see the enemy at work daily and often times I fail and end up a victim to the enemy's schemes.  Did the enemy cause the problem with my heart last week?"
God: "No, but he was allowed to bring to surface the underlying condition."
Me: "Father, that was scarier than before my pacemaker and I had fear."
God: "Yes, but you listened to wise instruction and removed yourself from this is a result."
Me: "So I would have died?"
God: "No, it was not your time, but you listened to My instructions and you were spared a much worse fate."
As a note here, I had an 'episode' at a local car wash. My air conditioner was not working in my car and at the same time my pacemaker was not keeping my normal heart rhythm.  As a result of the heat in the car wash, my heart slowed and I became faint.
I knew that my heart was going to stop and I was fighting my desire to slump over. I knew the car wash would be at least another five minutes and that no one would find me in time to help me.  I heard the voice of God tell me to push the accelerator and drive forward.
By God's grace, I got out of the car wash and somehow did not hurt any of their equipment. Somewhat humorously, the car was still covered with soap as I rolled down the windows for fresh air while some people came over to help.
Shortly thereafter, I went from there to the hospital. I thanked God that the front door was not down in the car wash.  When I asked the attendant, they were at a loss as to why the front door was up as they usually always have the door in the front down.
Me: "Father, this really scared me and I thought about my kids and about all we have not done yet.  I began to bargain with You."
God: "Yes, but something else."
Me: "I panicked and I did not have peace.  I remembered the suffocating feeling of a breathing tube and arm restraints when doctors have control.  I remembered the incredible amount of the bills from it and then the loss of my children if something were to happen.  I knew that this could have caused me to be destitute."
God: "Your thoughts are many in a matter of seconds.  You are here now, but you have not been carried Home.  There is no other item which concerned you?"
Me: I was embarrassed.  "I was concerned about all the mess I had at home as I am going through our things right now."
God: Laughing.  "Erin, please do not worry as I am with you."
Me: "Father, then can I ask for something bold?"
God: "Yes, I will listen to your request."
Me: "I need help, Father, but I need healing also.  Please help me to understand what was on the bulletin board."
God: Laughing.  "Hmm, this is three requests.  Erin, you delight Me.  Now, healing and help are on the way, so do not worry.  You are being gifted with an increase in knowledge as wisdom is greater than gold when it comes from Me.
"You have unlocked mysteries and discovered things in the Word which will breathe new life into you. I have provided for every need, Erin, so continue to give generously to those who are needy and whom I have sent.
"These items which once brought you a source of comfort have now become a burdensome stone. Heavy stones sink to the bottom of a riverbed, a gulley at low tide and even a public pool and end up submerged in water.  You and your children are to set sail and avoid the tempest."
Me: "I am confused as I thought the tempest passed us by?"
God: "Erin, it has just begun.  I stir up the seas with My finger.  Did you see Me calm the seas?  Is there another who can calm them but Me?"
Me: "Jesus can, but apart from you, Father, He would not do this."
God: "He sees what I do and looks to Me and this is wisdom.  You too must do the same and this is wisdom.  Why do you think I have taken you on such a long journey?"
Me: "I am not sure, but maybe because You want me to be lacking no good thing.  Maybe if You would have done everything at lightning speed, I would have not had a relationship with You.  Father, I have grown to love You with my whole heart.
God: "I see your knowledge is increasing and you are being prepared for what is coming.  You must be free to be fully able to fly like an eagle.  This comes from letting go and letting Me take you.  Then you will remain humble, but fully capable to be used to roar with the strength of a thousand young lions if need be.
"There can be no hindrance of the former things as the former things are to be forgotten. There are events coming which, even though they have been foretold, will still be catastrophic.
"You are being gifted with knowledge of time now and there will be an increase of understanding. Your dreams will be clearer, your life more defined and you will be unafraid."
Me: "Can I request this for my family, children and friends too?"
God: "Requests such as these are good, but these gifts are not received by all and you must understand walls.  It is not by My Will, but their wall which keeps them from My gifts.  Do you understand?
"I am God and I will not give My gifts to those who serve other gods. This is why you have been instructed to remove your burdensome stones.  The walls, although silent, were glaringly loud to Me."
Me: "Forgive me, Father, but it is hard in this world today to not be part of it in body and still focus on You."
God: "This is wisdom, Erin.  You have been given a timeline in which to tear down these walls of Jericho.  Now act.  Do this and then you will have your war book finished.  Your healing has begun.  Continue on your course.
"The symbol of the coin and the number '50' represents your moving to the supernatural from the natural. This gift is greater than gold.  In your 49th year you began, but then moved to your 50th year.  You are in a new time of your years and will experience more from the Holy Spirit.
"Your revelation will increase and this too is greater than gold. Now understand this; you see the same patterns in the time of My Son on Earth.  The honored men received a great gift, but along with this a great blessing and an earthly burden.  Are you ready?"
Me: "Yes, Father, but I am a bit scared as I felt death's helpless sting last week.  I pray for Your protection."
God: "Then it is done."
Me: "Father, I have a question…well several…but please help me with the studies in the Word you have given.  Why the first five books and the last five books?"
God: "You have been taught about a select portion of Scripture where they left out many things.  You are told to read not in part but in whole.  For this time and the time to come, you must understand that the creation of all things began by My lips in just a breath.  Then came instructions, mistakes and then the wilderness.
"However, after the wilderness came the Promised Land. The last books are the same.  You have learned by the mistakes and that which is true, holy and just.  These testify to your Savior and prepare you for what is to come."
Me: "So are we in the wilderness now?"
God: "Yes, but it is a far removed world than even two thousand years ago.  Those who accepted My Son were given a gift of the ability to yield and be comforted by the Spirit, the still small voice.  The written Word was not wide spread, so the voice of correction was a lamp to My laws.
"Now even with My Word widely available, very few understand. The spirit of confusion and the voice of reason have removed the miracles given by My Son.  The promise to do even a greater work than He did on Earth was replaced with the seed of doubt and fear.
"The gentle voice of love and comfort was replaced by seeds of shame and slavery. My people no longer have understanding, so they have become comfortable sitting with Paul in prison.  They read no further for inspiration."
Me: "So are you saying Paul was not good?"
God: "No, Erin, but Paul was not the Savior of men and he testifies like David and the others.  This is to comfort men to learn from their mistakes or mishaps.  They were appointed for this.  This is why trials and tests are good as it is by these which testimonies are birthed and even churches.
"You are to focus on the Word of God. You are to see the patterns from the giving of the laws and instructions in the wilderness.  Etch these on your heart and obey My voice and then you can enter the Promised Land.  The beginning is the same as the end and I am the Alpha and Omega.  It is written."
Me: "So help me in my limited understanding as there are keys and patterns in these particular books which will mirror our times now and to come?"
God: "Yes, Erin, but your understanding is not limited."
Me: "Father, I struggle.  Why would a woman be given instructions when women should not be leading men?  Women have caused men to fall.  The enemy uses women."
God: "God uses women also. I now have added more to your reading, Erin.  Look to the reasons why this was not allowed.  Men are the Godhead over women and this is good, but you were created for this time, Erin.  Had you written this a thousand years ago, you would have been burned at the stake.
"Many men have been called, but not all accepted. You are not tempting men into an adulterous affair while tucked away in My quiver nor are you operating in seducing spirits while I am using you as an arrow.  Men are easily led astray by flattering words and a lying tongue."
"Marriages are put asunder by the enemy to weaken My army of harvesters. You have been given your tests and trials repeatedly because you have learned to depend on Me.  Those who have a broken heart and a contrite spirit are willing to do anything and everything that God asks of them.
"I despise this not, Erin, as I can use anyone I wish and who is willing. There should be no more on this matter.  Do you believe I can give you any gift I choose?"
Me: "Father, please forgive me if I doubted Your choice as You are God and I am not.  Yes, of course You can give anything you choose to anyone and at any given time."
God: "Then, Erin, receive what I give you when I give it to you for the sake of My glory and not yours."
Me: "Yes, Father."
God: "Erin, I gave you a vision more than a time ago in which you drew a picture.  Do you remember this?"
Me: Just then, the sketch downloaded.  Laughing.  "Yes, I remember this."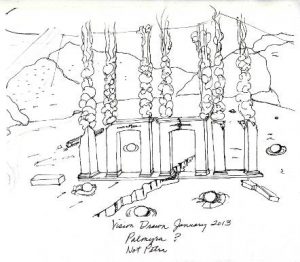 God: "Release this as the enemy is about to take this land now.  This is a marker."
Me: "Is this not Petra, Father?"
God: "You were told this by men and not by Me.  Erin, did I say that this is Petra?"
Me: "No, Father, You did not."
God: "Then hear Me, look to Me, wait on Me and watch for Me first and not on your behalf.  Then when I say 'now', then obey."  He said this with such authority.
Me: "God, My Father, I am scared.  Can I make a request of You?"
God: "Proceed, Erin."
Me: "Can You make Your instructions so loud and clear that there can be no enemy's voice to confuse me?"
God: "Yes, Erin, as this is a good request.  Please do not worry as I am with you.  Do not be afraid for I am God, Your Father."
Me: Crying.  "You are glorious.  Thank You for the wilderness.  I can see our Promised Land.  I cannot wait to enter in, but I know to not move ahead of You.  When men moved in advance of Your leading, they perished.  I love You, Father.
"Please bless us and bless the work of our hands. May we bring You all the glory in everything we do.  May we always be thankful and testify of Your great mercy and gracious heart for You are the greatest gift.  I love You."
I felt an interesting warmth which was fluid coursing through my veins and resting on my heart. It was the divine love of God going through me to the tabernacle of my beating heart.  I felt alive in my glorified body as if even this was divinely upgraded.  I wept as I thought how nothing is impossible with God.
God: "Erin, you are loved.  I have something coming to you so please receive this.  I will see you again."
The angel, Uriel, brought me to my feet and through the door by the forestry board.
Me: "Uriel, why are these last books of the Bible so important?"
Uriel: "They contain confirmations of the time you are in.  The deeper you pray on these Words, the more the Lord illuminates His instructions.  Erin, you saw the Lord lead the sheep to water and then He led them to rest under the tree.  They obeyed Him as their Shepherd.  Then He went to the field aided by workers.
"Remember to obey the Lord. The Laws and Commandments of God should always bring comfort and joy.  These were not created for man to lack good things.  This is for those deserving more of God.
"Those who are content with the wilderness will not enter in to the Promised Land. The time is like the days of Noah and the time will be like Sodom and Gomorrah.  The sheep trust and obey the Shepherd and the sheep lack no good thing."
"The works of the Lord are your lamp. The testimony of those who were baptized by fire and stood through their trials were given revelation.  They came through the fire refined and their instructions are the final path to the Promised Land.
"Your life is written on the tablet of your human heart and the Holy Spirit lives in you. Our Lord writes on your tablet of the heart.  Therefore live as a testimony to Him.  Find comfort in His staff and then He leads you.  Do not fear."
Me: "Thank you."
Uriel: "Be careful to obey God and His instructions.  When you are in need, call out to Him.  However, when you do, just know that before you utter one word, He has already commanded angels concerning you.
Dream over…
Copyright© 2012-2023 SparrowCloud9; Erin Aleshire (All rights reserved, copies only allowed as per written permission)