Dream 259 – God and the Break of Dawn
Finished on Sunday, September 17, 2017
Received on Wednesday, September 13, 2017
Communion
Dear Father,
Thank You for another day! Thank You for keeping us sustained.  Where You have us now is really such a beautiful 'prison cell' and the surrounding area is an amazing 'prison compound'.  Thank You for all that You have done for us.
Father, I am sad, scared and discouraged today. I am not at peace.  You require all of me when I come to You, so I am worried about coming to You right now as my thoughts are so anxious!  There, I said it…yes, even though You already knew this.  I have never really chewed my nails before, not like this, but I am now.  Yuck!
Even my dreams are so very complex right now, almost like epic movies. Where do I even begin?  What do I do?  Father, who am I, but, really, who are any of us, that we should receive anything from You?  However, what I do know is that You somehow still love us and I am so thankful for that.
I watched the news on the 'cursed land' recently. So many areas are being completely obliterated.  Some are even being wiped off of the map.  Lord, all of this is making me so sad.  I am sad for my friends and family that reside in these areas.  I am sad for my friends and family that have homes and farms threatened by the flooding and fires.
Trouble can come so quickly. Calamities can ensue in a blink of an eye.  Where can a person even go when they are given such little warning?  Where is their safety?  Often trouble can descend on a certain area equally, yet some homes are removed and some homes are left unscathed.  For even those 'unscathed', then what are they to do?
When someone is stuck in record heat and sweltering conditions and the power is out, where will the cool relief or the refreshing springs come from? For that which still remains that the storm did not ravage or the fire did not consume, the thieves then come to pillage.  Those who promise to help then often bring very little.  It is so crooked.
Father, You are everywhere and see it all. You have told me that this is Your last 'few calls' to a sleeping world.  You are now saying to those who know little, 'Stop what you are doing and look to Me.  I created you.  You are nothing without Me.  I am here.  Turn to Me and I will carry you.  I am with you.  I love you.  Turn to Me now and be saved.'
Father, based on my recent dreams, it is obvious that You are not finished with bringing judgment upon the nations. From experience, I know that this devastation will then be followed by illness, economic stress and corruption.  So many lands are divided now, but especially the 'cursed land'.  People are being so unreasonable with each other.
The things that our children are being taught at school right now are becoming more and more disturbing. For the very first time, I am even seriously considering homeschooling.  I just received a student questionnaire that allows someone to identify themselves as either male, female or 'other (please explain)'!
Father, what exactly is meant by 'other'? The time we are in now just has to be worse than even in Noah's day!  To make matters worse, even the price of food is become unbearable.  Things are so expensive right now that I have recently declared that this week will be 'French toast and pancake week'.
Even though I know that I am 'complaining' right now, I also know that we have it relatively good compared to so many others, especially down south. Father, we are so grateful to You.  I have tried to contact some of my friends that live down there and I do not believe that they can even respond.  I pray that all is well.
I am also worried about a family in the Dominican Republic that we sponsor. We have now sponsored this family for over fourteen years now and I am worried for them.  Their area was hit very hard by the hurricanes and there is still virtually no relief at all arriving there.  Oh Lord, please protect them, along with all of our friends in other areas.
When I watch the news right now, I am in shock at how apocalyptic everything looks. The photographs of all of the devastation are breathtaking and mind-numbing.  It seems like they were even taken from an epic disaster movie, but, no, this is our reality now.  It is only going to get worse!  Oh Father, please save us soon!
I suddenly remembered something that had recently occurred to me on Monday, just a couple of days ago. My eldest son and I had just driven into town and had picked up my youngest daughter from her school.
We then drove to pick up our two middle kids from the high school. While the skies were hazy, you could still see that they were a beautiful blue.  It was quite warm out.  I then noticed that the leaves were now rapidly changing.
As I was driving, yet only for a split second, the scenery around me somehow changed to something I had seen when I lived 3000 miles away. While the road was identical, the scenery was somehow now changed.  Just as fast, the scenery turned back.
I somehow knew that this was not Deja Vu. Lord, why did You allow this?  You gave me a rather odd dream that reminded me of one that Joseph had, yet different…
Dream 1 description begins…
I was standing in a massive wheat field. Directly in front of me were twelve bundles of wheat.  I smiled when I suddenly recalled the eleven bundles of wheat that Joseph had dreamt about (Genesis 37).
As I inspected each of the twelve sheaves of wheat, I noticed that they each had slightly different characteristics. However, I also somehow knew that each of these sheaves had all been taken from the very same field.
As I walked through this massive wheat field, the weather seemed to feel quite similar to a nice fall day in the middle of September. As I looked around, I saw that the harvesters were very active.
I had now walked past eleven of the twelve sheaves of wheat when I decided to sit down at the base of the twelfth sheaf. I smelled wood smoke in the air and it was delightfully fragrant.  As I sat there, my tears unexpectedly started to flow down my cheeks.  I started to pray with all of my heart as I continued crying.
Me: "Oh Lord, please help us.  We need help!  So many people are in trouble right now.  Our household is under attack right now.  Even our pet dogs, but, really, all of the animals around us, are acting strange.  Father, what is happening?"
Dream 1 description over…
Received on Friday, September 15, 2017
Several horrible things happened a couple of nights ago and all of them were meant to strip me of all hope. Well, it worked, at least temporarily, and my hope and joy were gone.  I was now in great despair.  I mostly felt the same yesterday as well as I simply just could not wrap myself around the pain I was feeling from this turn in events.
Just before going to bed, I suddenly felt God lead me to read a particular journal that I had written in. This journal was from exact time frame we are in right now, but back in 2011.  I spent even more time in this journal this morning as well.
I mourned as I read this journal as it was just before a trial date scheduled for October 2011. I was in a huge fight to keep my children.  I had been completely deserted and had very few options…well, I really had no options at all at this point.
All of the hope I had left was in God. I had already done everything I knew I could do on my own strength.  Even though my 'Little Red Journal' was incredibly hard for me to read again, this journal was even harder to read.  Wow!
This journal was filled with lamentations. While I would first record facts and events, it was then quickly followed by the wailings of my broken heart.  I had been deserted by family and friends, people who said that they would never leave or betray me.  Well…
Despite my enemies continued course against me, I still prayed for them. Their attacks continued and went on and on.  After I prayed with all that I had, I finally figured out that, if God was truly with me, He would take care of things.  On the other hand, if He wasn't with me, then I was about to lose the only thing that mattered most to me…my children.
When I look back now, I feel that my 'major crime' at the time had simply been for me to be so blind as to have trusted a man that ultimately had only one goal in mind – to destroy me completely. I had no means to fight and my bank account was now empty.  To make matters worse, I was given an ultimatum by my lawyer.
By the end of a particular day in mid-September 2011, I now had until the end of the day to come up with $3,800 or my lawyer would withdraw from counsel. This was now less than a month before trial and I was horrified.
I went into panic mode and started to vomit. I had no real options and nothing left to sell.  I had already sold all of my jewelry and valuables for this ongoing court battle.  I had some other items that I sold, but this amounted to hundreds, not thousands.
If the money was not to be granted at this time, I prayed that the Lord would at least grant me more time. After praying with all of my heart, my phone soon rang.  It was my lawyer.  He told me that he was going to give me until the end of September to come up with the $3,800 PLUS even more to pay for the upcoming trial in advance.
To my horror, the people around me, family, friends and even those I barely knew, started telling me to drop the fight and simply walk away. I became quite angry when someone then told me that this was a sign from God to walk away.  I asked them 'Why would God want these children to grow up without a mother that loves them?'
They had no response. As I continued to read this journal, my heart started to pound harder.  While the grief from this time period was now years ago, reading this made my wounds still feel raw and fresh.  It hurt to see all that had been allowed to happen to me.
I read that I then went on my knees to declare so many of the promises that He has given to us in Scripture. Even though I felt that all hope was now lost, I declared it to Him as loud as I could.  I shouted to Him in desperation and inserted my name as I wrote these out.  I wrote the following as I waited for His miracles:
Psalm 46: "As God is within you, you will not fall. God will help you by the break of day."
Isaiah 62:11-12: "The Lord has made a proclamation to the ends of the Earth. Say to Erin, 'See, your Savior comes. See, His reward is with Him and His recompense accompanies Him.'"
Esther 8:8; Haggai 2:18,23: "From this day, I will bless you. I will make you like a signet ring for I have chosen you, Erin! Nothing sealed with the King's signet ring can be broken!"
Received on Sunday, September 17, 2017
Haggai 2:5: "For I am with you, Erin!"
Isaiah 30:18: "The Lord is the God of Justice and blessed are those who wait for Him."
Jeremiah 42:11: "For I am grieved over the disaster I have inflicted on you. Do not be afraid of the King of Babylon whom you now fear. Don't be afraid of him, declares the Lord, for I am with you and will save you and deliver you from his hands."
Isaiah 49:17: "Your sons hasten back and those who laid you waste depart from you. Lift your eyes and look around. All your sons gather and come to you. As surely as I live, says the Lord, you will know I am the Lord. Those who hope in Me will not be disappointed!"
Romans 3:4: "You will be proved right by what you say and will win your case in court."
Psalm 121: "The Lord watches over me, both now and forever more."
Nahum 1:7: "The Lord is good, a refuge in times of trouble. He cares for those who trust in Him. Whatever they (the enemy) plot against the Lord, He will bring to an end and trouble will not come a second time."
Zephaniah 3:14-20: "Be glad and rejoice, Erin! The Lord has taken away your punishment. He has turned back your enemy. The Lord, the King of Israel, is with you. Never again will you fear any harm (or be far from Him). The Lord, your God, is with you. He is mighty to save. He will take great delight in you. He will quiet you with His love. He will rejoice over you with singing. I will remove from you the sorrows for the appointed feast as they are a burden and a reproach to you. I will restore you!"
Psalm 75:7: "It is God Who judges!"
Psalm 77:14: "You are a God Who performs miracles!"
Psalm 72: "He will judge your people in righteousness, your afflicted ones with justice. He will deliver those who cry out, the afflicted who have no help."
Psalm 17:8: "Keep me as the apple of Your eye. Hide me in the shadow of Your wings!"
2 Chronicles 20:15: "This is what the Lord says: Do not be afraid or discouraged for the battle is God's. You will not have to fight this battle. Take up your position and stand firm and see the deliverance the Lord will give you. Do not be afraid. Do not be discouraged. Have faith in the Lord and you will be successful. Give thanks!"
John 17: "I call on Jesus and He says: Protect them from the evil one. Sanctify them by truth."
John 16:23: "I tell you the truth, Erin: My Father will give you whatever you ask for in My Name. Ask and you will receive and your joy will be complete."
I then wrote the following prayer in my 2011 journal right after I wrote this…
Prayer: "Lord, God, I ask now in Jesus' Name, (1) To grant me the money to fight; (2) To grant me victory and return my sons to me; (3) To return us to our land and provide us with a home and money to give and to live; and (4) To bless those who have hurt us. I ask for this in Jesus' Name, Amen!"
I then wrote more Scriptures out, but again personalized…
Zechariah 2:7: "This is what the Lord says: After I have sent you against your enemies, whoever touches you touches the apple of My eye. I will surely raise your hand against them. They will then know that I have sent you. Be still before the Lord! Then you will govern My House and have charge over My Courts. I will give you a place amongst those standing here (against you)."
Joshua 1:5: "No one will be able to stand against you all of the days of your life. As I was with Moses, so I will be with you. I will never leave or forsake you. Be strong and courageous. Be strong and very courageous. Obey My commands. Then you will be successful. Be strong and courageous. Do not be terrified. Do not be discouraged for the Lord, your God, is with you wherever you go!"
After I declared these promises to 'remind God' of them (smiles!), it became even worse for me for the next two days. It soon became so bad that I then asked for God to 'wipe me off of the face of the Earth.'
I then thought of my children and asked for Him to remove this last request. However, I was still crushed and broken with all of my hope gone.  I then said to God, 'I love You, but it seems as if You have now left me.  It even looks as if Jesus has now left me too!'
I then had this dream on September 19th, 2011…
Dream 2 description begins…
I was reading a Bible when it suddenly turned to Isaiah 33. As I looked at the page, one of the verses was highlighted…
Isaiah 33:22:  "For the Lord is our Judge, our Lawgiver and our King.  He will care for us and save us."
As soon as I finished reading this highlighted verse, the Bible then suddenly turned to the Psalms. The entire Psalm 40 was highlighted.  In this dream, I then summarized it in my own words as a 'personal summary'…
Psalm 40 (my personal summary):  "I waited patiently for the Lord to help me and He turned and heard my cries.  Many will now see what He has done for me and be amazed.  They will then put their trust in the Lord as well.  I will take joy in doing Your Will, my God, for Your instructions are written on my heart.  I will tell all of the people about Your justice.  I will not be afraid to speak out for You, oh Lord, and I will not keep the Good News of Your Justice hidden in my heart.  I will talk about Your faithfulness and saving power.  I will tell every one of Your unfailing love and faithfulness."
Dream 2 description over…
Even though I was then hammered even more for four more days after this, I stood my ground. Then, and by a miracle, a letter arrived.  The check enclosed within had been owed to me from several years ago, but I had no idea this 'debt to me' even existed.  I was shocked as it was three times more than what my lawyer had even been asking for!
I had absolutely no idea that this check had been issued or that I was even owed this money. This is still one of my greatest miracles to date.  It had been written out and sent in early-September 2011 and I deposited iton Saturday, September 24th, 2011.  The funds were then fully available to me on Monday, September 26th, 2011.
Thanks to this 'miracle money', I was finally able to fully continue my fight for the custody of my children without limitations. This miracle money gave me so much confidence that it even scared my enemy.
Now fearing a long and expensive court battle himself, a settlement was soon reached. Finally, and on the Yom Kippur in October of 2011, custody of my children was granted back to me.  However, my eldest son decided that he wanted to stay with his father based on the promise from his father of putting him into private school.
Sadly, this was yet another one of his dad's broken promises. After years of asking his father when he would follow up with his promise to put him into private school, it never happened.  It was yet another trick by the enemy to rob all of us by using this 'man'.
Anyway, with the money I 'saved' by not going to court, I decided to celebrate and took all three kids on a trip 'home' to Oregon. As I still wanted to be careful with my money 'just in case', I decided we would only go away for three days.  It is still a vacation that all of us remember to this day.
We stayed in a 'fancy hotel' (for us) and 'even had a pool'! We went to the museum, the movies, got ice cream and ate pizza.  We praised God for everything as we knew this was from Him.  It was truly a trip none of us would ever forget and we still haven't.
We were all happy that we were able to once again visit the places that we loved to visit when we had our home in Oregon. This was the place that we were all so happy (if it were not for 'him').  We then asked God, if it be in is His Will, to one day have Him return us to our home here.
Well, Father, my children are older now and I am older still…smiles. While my mom has since passed away, at least this was after we had already reconciled.  You have cared for us day-by-day and have instructed us.  You have kept us safe in Your quiver.
I recently had an odd dream about a Broom Tree that seemed to somehow relate to all of this…
Dream 3 description begins…
I was walking through various rows of trees for sale at a local garden nursery that a friend of mine owned. As I walked around the side of a greenhouse, I noticed a 16' tall tree in an extremely large pot.  I looked for my friend and asked her about this tree.
Me: "What is the story on that tall tree next to the greenhouse?"
Friend: "No one wants it as it won't grow here.  Also, the height is too tall at 16'.  It would also need to be indoors at this time of year as it is now past the time that it can be planted outside.  Oh yes…it is also now too big for me to move.  For all these reasons, I am just going to leave it where it is and let it die."
Me: "What?  Wait!  I'll buy it from you instead."
Friend: "Erin, you really don't need any more stress.  If I were you, I would not take on the care of this tree."
Me: "While I thank you for your concern for me, I still want to purchase it!"
Friend: "Well, okay.  However, I will just give this tree to you as I was still going to have to pay for it to be removed once it died."
Me: "Oh, thank you so much.  By the way, what kind of tree is it?"
Friend: "Oh, it is a Broom Tree.  Now, are you sure you are up for this?"
Me: "Oh yes!  Where I am going, God will strengthen me and keep the tree healthy.  As I will now plant it in the land where it belongs, it will thrive."
Friend: Smiling.  "Well then, you should then also know that the meaning of the Broom Tree is 'renewal'!"
Dream 3 description over…
Father, You are now preparing us to once again return to the land we loved so much, but for a different purpose. You are taking us back to stand before those who had said such horrible and false things about us.  We went through so many storms together there that I even tried to capture what we were going through in a pastel painting…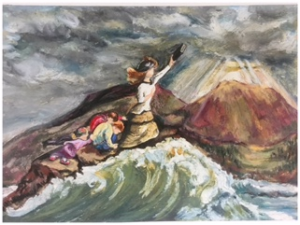 While this particular door may even be open already, we will continue to stay where we are until You strengthen us and grant us the ability to walk through this door. While we will do our best to remain satisfied here, I must admit that we are already restless and anxious from the excitement of the prospect of returning to this beautiful land.
Though it is hard to wait for You at times, I also now know that Your timing is always perfect! We love You and I thank You for all that You have done for us.  This is all such a true miracle.  Even so, we now ask that You soon do all that You have promised us.  Father, I pray that You will do this for us all 'soon, very soon', in Jesus' Name, Amen!
I then started to go back to my journal to reflect on some of the Bible verses I had just written out for this dream. I soon came to the part in Isaiah 30:18 again that talked about 'waiting for God'.  I started thinking about how hard it is to wait, especially during times of uncertainty, but also how poorly things usually go when we don't wait…
Jesus: "Erin, come up."
I immediately found myself already on my knees on the floor of God's Heavenly Court.
God: "I am with you, Erin.  Now, will you continue to wait for Me?"
Me: "Yes, Father.  However, this is already so painful and it is even getting worse."
God: "Do not worry, Erin, as My strength is made perfect in your trials.  I am the God of Justice and, your children, I have saved.  I will not let anything come against you.  Even if I did allow something to come against you, I would not let any harm come to you.
"I told you that I would one day completely deliver you from your enemies. I will soon do this for you and you will be on Earth to see it.  All of your enemies will confess and I will make right all that which has been done to you.  Do not worry as I will do all that I have promised.  My recompense is with Me and I am here.  I love you, Erin.
"Even though you have paid a great price, I will now give you back all that had been stolen from you. Yes, I will even give you back all of the years that had been stolen.  I will speak tenderly to you and will grant you 1,000 fold more than what you have lost.
"I have seen the evil done to you in secret. While I know that it sometimes seems as if I do not hear your pleas, I hear every one of them.  I have heard your prayers for those who have harmed you and for those who continue to try to harm you.  I have heard you plead for mercy for those whom do not have understanding.
"While I am the God of Mercy, Erin, remember that I am also the God of Justice. As such, I will now use My scales to measure the weights of the evil against the weights of your good.  Some now even accuse the dead and desecrate the reputations of those who call out from their graves.
"Even though you still pray for the wicked, I will no longer have mercy on those who have repaid your goodness towards them with evil. While I will do this for you, I will also do this for all of those whom I have called.  I have heard the cries of the oppressed, but now their oppressors will be made to cry.  They will cry, but I will not listen.
"Erin, I heard your cries and have now kept you away from your enemies for 'a time and times'. However, I will now heal you, strengthen you and bring you back to the place that I had allowed your shame, the homeland that you once loved so much and still do.
"When I bring you there, the people you knew there, but especially your enemies, will not recognize you at first. In many ways, your return to this land will be similar to Joseph's after those closest to him had left him for dead.
"Erin, all of this is already lined up for those who were wicked to you there during this particular stage of your life. I have done all of this for you so that you will be able to see them fall to their knees in horror at the mere sight of you."
Me: "Oh Father, thank You for this, but I am certainly no Joseph.  While Joseph had not done anything wrong, I have done so many things wrong!"
God: "Erin, have you not longed for your enemies to truly see you as I see you?"
Me: "Yes, Father."
God: "Well, Erin, because your heart is good, you will soon be proved right by your actions.  While you will continue to bless those who bless you, those who wanted and still want your death will be put to shame.  I know the things hidden in the hearts of men.
"I know that which has been thought of you. I know that which has been done to you.  I know that which has been said of you.  I know as I have used you as a measure.  Yes, Erin, you have been a measure.  I have used you as a vessel for measurement and, even though I have filled you with good, you have still been hated beyond measure as a result of My use of you.
"However, all of this is not a surprise to Me, Erin, as it is written that, in the last days, men will be lovers of self, lovers of money, boastful, arrogant, revelers, disobedient to parents, ungrateful, unholy, unloving, irreconcilable, malicious gossips without self-control, brutal, haters of all good, treacherous, reckless, conceited and lovers of pleasure rather than of Me (2 Timothy 3:2-4).
"These are all of the manners of the opposite of the good fruits. However, for those who are thirsty for Me, you will represent truth.  Your words will then be like refreshing springs to them.  You will be a 'cup offered to them' and I will have My Spirit in you.
"As for those who oppose you and refuse what you will offer them, these men of depraved minds, these men who oppose truth, will instead enjoy that which the ruler of the wicked offer. They will then soon find out that what the ruler of wicked offers them does not satisfy and leads to death.
"Remember that the arrogant will also continue to justify their sinful deeds using My Name. In their hearts, they believe that they are hidden from My sight as if I was a steed with blinders on.  Well, Erin, I am not a steed and I do not have blinders on.
"As I search into the heart of a good man in order to call him Mine, I also search the heart of a wicked man to see if there is any remnant of good left in him. If I then find that there is none, I then use 'a good man' to measure their deeds against.  I then use this to impose justice on the wicked in My Courts.
"You, your husband and your children, but also the others that I have chosen, are a measure for the wicked. Would it not make sense that all of you would then experience the hot pursuit of the wicked as a result?  While you have, Erin, all of those I have chosen also have.  The wicked constantly pursue the afflicted and plot against the good.
"After doing this, these wicked men then boast of their evil as if I do not even exist. They believe that they are free to continue (Psalm 10:2-4).  However, Erin, their roof is of glass and their bones are rotting inside their bodies as they themselves are dead.
"I will now show the wicked that I see them and all that they do. I will not even allow them to have a lawyer to plead their case.  The only advocate they will have is the evil from their course and the lies from their path.  I see all, I measure all and I know all.
"While this life has been hard on you, I have used 'the furnace of affliction' to refine you and fashion your 'heart of gold' for My purposes. Rejoice, Erin, as your mourning will soon turn to dancing.  Now, Erin, do you remember the two Words that I had given to you that contained so many of your promises?"
Me: "Yes, Father!  These were in the journal that You recently led me to.  It seemed impossible at the time for these to ever come true.  However, these two Words stood out to me.  I still remember both of them clearly.
"You told me to put my name in Isaiah 61 and 62. You then told me that You would do all that was written in there as all prophecies written in Your Word always come to pass.  Lord, I know so very little about my origins.  Very little records have been kept."
God: "I know, Erin, as this too is by My design.  You must forget your father's house for now I, your King, am enthralled by your beauty.  You are Mine, Erin.  I have summoned you by name and it is I Who has redeemed you.
"Now, pay close attention. When you pass through the waters, they will not cover you.  When you walk through the fire, you will not be burned.  The flames will not hurt you.  I am God and you are precious to Me.  Erin, I love you."
Me: Crying.  "I love You too, Father, so much.  I had once thought it impossible to even know you at all.  Instead, I now love You with all of my heart.  You are so good and incredibly…well…incredible!  Thank You, Father…oh, thank You so much!
"While I have not enjoyed most of my life here that much, I would not trade these troubles for an easier life if it then meant not knowing You like I do now. Oh Father, I am so sorry that I often 'whine' to You when I am distressed.  While You are my Father, you are also the only father that I have ever known."
God: "Do not fear, Erin, as I am always with you.  I have not forgotten you.  I promise that you will soon reap all the good that you have sewn.  You will reap this not just in Heaven, but also on Earth as it is in Heaven.  You will drink the sweet wine from your very own vineyards.
"Even though you once lived in a desert wasteland that no one would want to walk through, I have changed this and will change this again. I have purchased the land that you are on as it is Mine to give to you.  There, you will soon plant vines.  Your fruit will then be free from anything that would come against it.
"You will see this here, Erin, and not from the grave. Though you just said in your heart, 'But, Father, I am old, my bones are dried up and my hope is gone', I say, 'Pay close attention for I am now going to open My people's graves and bring them back to life.  I am now going to bring all those that I have chosen back to life', understand?"
Me: "I believe so, Father.  I am hopeful."
God: "Though you just said in your heart, 'When, Lord?  When will this be?  My hope is gone and my money is spent.  Who will intervene for our family?', I say, 'At the break of dawn'!"
Me: "Thank You, Father, but which day?  Which dawn?"
God: He laughed and I smiled.  "The 'perfect day' and the 'perfect dawn'!  I love you.  Do not be afraid.  I have heard your cries.  I have measured the wicked.  I am now about to do something in your days that you would not believe even if it were told to you, understand?"
Me: "Yes, Father!  Please vindicate my life.  Please vindicate me and my children.  Father, please save us!  We love You, Father, but please, please do not delay!"
God: "I promise you, Erin, I will not delay!"
Dream over…
Copyright© 2012-2018 SparrowCloud9; Erin Aleshire (All rights reserved, copies only allowed as per written permission)